I invite you to explore my YouTube channel, where you'll see first-hand how insulation looks in dark and mysterious attics, crawl spaces, and basements scattered across Maryland. Witness first-hand how we tackle the unique challenges found in these hidden spaces, and gain valuable knowledge on how to conquer your own house.
Like this article?
Get two free guides:
Replacement Window Report &
Home Efficiency Report
Join a community!

Learn how to move the
home comfort needle!


Save Energy
Effective Tips
From a Certified Pro
Energy Auditor
Eric Gans
Certified Energy Auditor

Residential Comfort & Energy Efficiency
I invite you to explore my YouTube channel, where you'll see first-hand some of the issues we are out there fixing.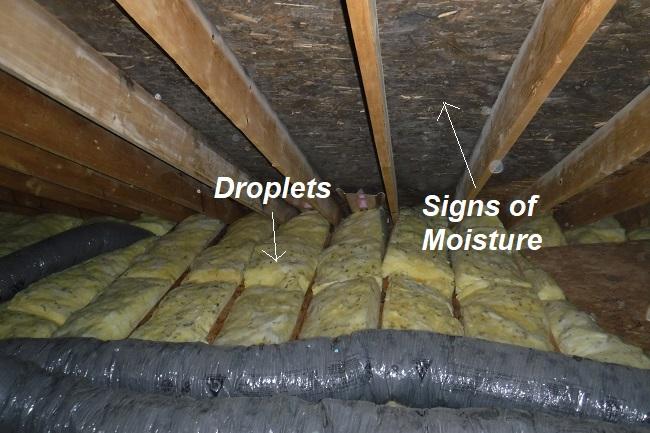 Why does Mold Form on Plywood?
Typically, condensation in the attic starts due to a moisture issue created by introducing two completely different air masses. Here are the two possible reasons this problem is happening in your attic.
1. No AIR SEALING at the attic floor to stop warm, conditioned air from escaping into the attic (warm air/ winter issue) coupled with a lack of adequate attic ventilation creating conditions that are right for condensation that adheres to the plywood and eventually forms mold.
2. In summer a leaking AC HVAC duct in an attic and other HVAC related inefficiency can allow air to seep out and interact with the hot humid attic air, particularly if the attic is not well vented.

If you find this helpful, check out more info on my YouTube Channel @homeairleakagetest
Warm Air Exfiltration - Winter Issue
Signs that you have an attic moisture issue problem during cold months can be seen on the plywood in some cases.
Winter Problems - What to Look out For
Frost and frozen droplets on the tips of nails and hurricane clips is a sign that warm, humid air is migrating from inside the home into the attic and settling in the wrong places.

Poor ventilation is trapping the air rather than allowing it to organically or mechanically be exhausted (through ridge vent or attic fan).
But, how is the warm, humid air getting into this attic? The usual suspects...can lights and top plates!
Recessed light thermography taken at the attic floor reveals heat from the inside of the home escaping into the attic.

Close up of a recessed light from attic taken during winter conditions.

Thermal image of the recessed light taken from inside the attic.
Top plates are also leaky spots if not air sealed properly. A top plate is basically the top of a wall/partition between the area below. A top plate will exist in the hallway, between rooms and between other areas that are separated by a wall.

Close up of a top plate.

Thermal image of top plate close up.
Summer Condensation - How it Formed in This Attic

This example is one I came across during the attic inspection at a home energy audit.
I have been in a lot of attics and seen a lot of plywood in attics (for which I am very proud!). I was not exactly sure on this one at first.
I have seen small patches of discoloration due to poor bath exhaust ventilation or a disconnected duct, but I have not had a mold case.
At first when I got up in the attic I could see the stains. It was apparent quickly that there was an issue beyond what I usually see.
At first, I considered the possible interaction of the conditioned air in the living space below and the warm humid attic air. A large opening or bypass? That seamed unlikely based on what I had seen up to this point. Then I turned around.
The poor duct was lying completely undressed and quite dirty.

Summer Moisture - 4 Things to Lookout For
Here is the recipe for mildew and mold growth on the plywood in warmer months:
1. HVAC Ducts
*Second HVAC system located in the attic or crawl space.
*The connected ductwork is also in the attic or crawl space.
*The ducts are leaky and improperly insulated allowing cold air to escape.
2. HVAC System Size
*Second HVAC system improperly sized.
*Too large for the space/square footage it is servicing.
*The larger blower is pushing cooler air through leaky ducts and into the attic.
3. Poor thermostat location.
*The thermostat is located in an area that was reported to be a "hot spot" on the floor.
4. Poor Ventilation
*Improper baffle placement.
*Blocked eaves (air intake).
*No ridgevent.
*Inoperable attic fan.
A baffle is supposed to act as a channel for the open soffit intake below.
The soffit opening is covered with insulation not allowing good flow.

How to Remove Mold from Attic Plywood
Answer: Control the humidity and the mold growth disappears.
Here are the precise steps recommended to solve this issue for the long term.
1. Remove the insulation around the soffit/eave areas - full perimeter
2. Reinstall baffles at the eaves to promote the best possible organic attic ventilation.
3. Re-position the insulation to not cover the openings.
4. Seal the duct seams and tightly insulate the supply plenum (main AC duct) to eliminate leakage (lost energy) into the attic.
________________
Written by Eric Gans
I have over 1000 energy audits under my belt in Maryland. I like to take my personal experiences with each of my audit customers and try to get the things that concern them out into the world so others can make good home improvement decisions - in the right order - according to their needs.

Do you have something going on around the house? Maybe my YouTube Channel can help.


YouTube Channel @homeairleakagetest

I would like to hear your comments about this article. Feel free to post something below...