Like this article?
Get two free guides:
Replacement Window Report &
Home Efficiency Report
Join a community!

Learn how to move the
home comfort needle!


Save Energy
Effective Tips
From a Certified Pro
Energy Auditor
Eric Gans
Certified Energy Auditor

Residential Comfort & Energy Efficiency
Tuesday, December 20 2022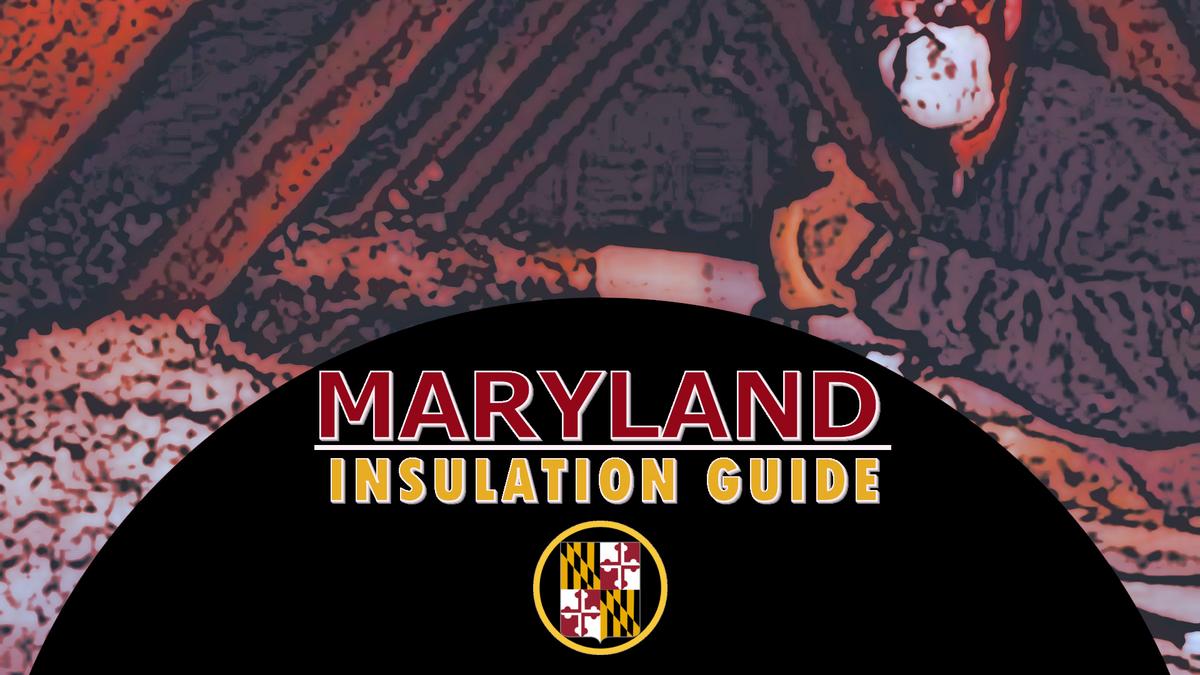 Written by Eric Gans, Building Analyst & Envelope Professional
I have completed over 2000 energy audits in Maryland which essentially means over 2000 trips to an attic.


---
Maryland Attic Insulation Guide
This guide can help anyone figure out how to improve insulation to their attic.
As winter takes hold in Maryland you should take a peek into your attic.
The attic is the place to start if you want a cozy, draft-free home.
If you see insulation in the attic it does not mean that it is working well for you.
The answer is in the details that you can learn about below.

You gotta know what to look for...
The State of Maryland recommends that our attics have enough insulation to equal R-49.
If your home is older than 10 years than you are likely not meeting the 2022 Maryland building code.
Existing insulation in a Maryland attic is typically inconsistent for a variety of reasons. Air sealing and the right amount of insulation are important for a tight, energy efficient home.
New tax credits are here now which demonstrates insulation's importance.

---
Take a look at a few under-insulated attics so you can do some comparing.

To be able to use the tool you need to take these two steps.
STEP 1: Get Your Attic's Current R-Value
Tasks Required
1. Determine the type of insulation you have in the attic now.
2. Determine your current insulation level in inches and note any areas (up to three) with major level variances.
3. Determine the condition of your current insulation.

STEP 2: Get Your Attic Area
Tasks Required
1. Measure the length and width from below for any attic area to calculate the square footage.
2. Note the exact square footage of any area that has different insulation levels (up to three). Use a laser measure to make it easy!
Once completed, you will be much closer to knowing if you are up to Maryland building code and ENERGY STAR.

Understanding the R-Value

There are two important things to familiarize yourself with as it relates to R-value.

1. The R-Value in "Lay" Terms
We measure insulation by it's R-value.
Insulation has one job - to resist heat flow. The higher the R-value, the better the insulation resists the transfer of heat.
Attic insulation can have a huge impact on your comfort, energy bill and HVAC performance. A well-insulated attic can make an old heating and cooling system seem like new.
Attic insulation in Maryland homes is a key to comfort each season.
Summer: Attic insulation keeps the hot attic air from getting inside.
Winter: Attic insulation prevents the warm inside air from escaping.
The attic is the most important place to insulate first. Other areas should also be treated such as basements, overhangs and crawl spaces.
2. Maryland Insulation R-Value Chart
You can use this later to compare to what you currently have.
BOUNDARY LOCATION
REQUIRED R-VALUE MARYLAND
Attic Flat
Ending R-value of 49 or as space allows
Attic Slope
Ending R-value of 38 or as space allows
Vertical Wall
(basement, crawl space, knee wall)
Ending R-value of 11 or greater
Crawl Space Ceiling
Ending R-value of 25 or as space allows
Below Cantilever
Ending R-value of 25 or as space allows
Rim Joist
(top of foundation wall in basement)
Ending R-value of 19 or greater
Learn how to determine what type of insulation you have below the graphic...


Determine what Type of Insulation You Have
Different attic insulation materials and levels yield wide ranging R-values.
So, it is first important to determine the type of insulation that is in your attic.
Typical Insulation Materials Found in Maryland Attics
Fiberglass batts

Loose fill fiberglass

Loose fill cellulose

Mineral wool

Two-part spray foam
Need help identifying what type of insulation exists in your attic?
Take a photo and send it to me! eric@hometrustremodeling.com
If you live in Maryland get a comprehensive home energy audit - through BGE or Pepco. It will cost you $100 and the insulation assessment is quite thorough.

Identifying the Most Common Maryland Insulation Types

Cellulose Loose Fill
General Characteristics
Grey in color
More dusty and clingy than other materials
Has bits of newspaper in it
Good fire/mold retarder w/ additives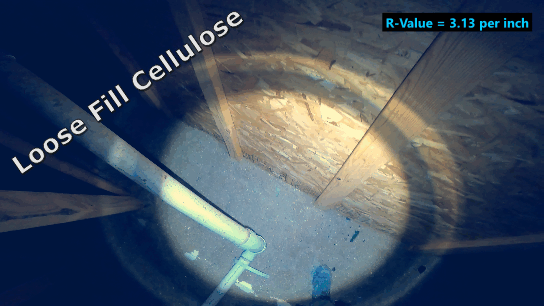 Rolled Fiberglass Batt Insulation
General Characteristics
Typically referred to as batt insulation
Has the kraft paper or aluminum foil on one side
Recognizable due to the "Pink Panther" commercials
Must be installed flawlessly (unforgiving)
Low R-value per inch if not installed properly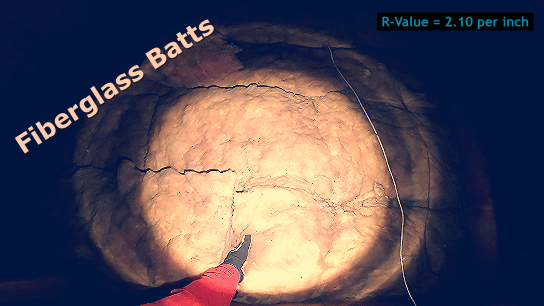 Fiberglass Loose Fill
General Characteristics
Typically white shreds, pink squares or yellow shreds.
Much less dusty
Lower cold weather performance than cellulose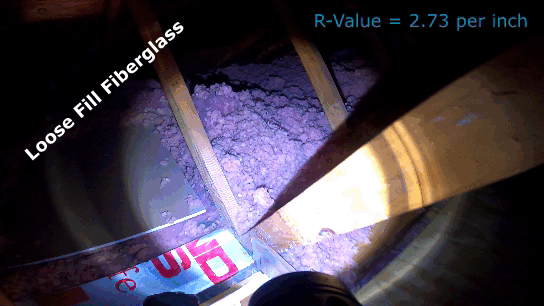 Determine Your Current Attic Insulation Level
The amount of insulation your attic needs will depend on how much is there now.
This can be a little tricky. Calculations can be off if the information is not gathered right. The condition, coverage and depth of the insulation are each important. Accuracy will ensure the best return on your investment and that you are meeting Maryland building code.

Un-insulated Areas Play a Heavy Hand in Poor R-Values
Now lets go a little deeper and explore the impact of un-insulated surfaces. It may surprise you how important having an even blanket of insulation is for for getting a great result.
If you notice any area in your attic that does not have insulation then pay attention to the information below!
This typical Maryland attic is a great example of what the impact of missing insulation can have.
The attic area in the home pictured above is 975 square feet and flat (R-49 recommended in Maryland).
You will notice 1" of blown in fiberglass insulation and 7" of rolled fiberglass batting laid on top.

In this scenario, the attic has roughly 8" of insulation in "most" of the areas that need it. Later you will learn how to use the depth to determine the R-value. In this case, the attic is R-17...
But, there is a catch!
There are two major un-insulated areas in this attic (very common in Maryland attics).
1. A three foot by three foot push up hatch
2. A three foot by three foot whole house fan
Equaling a total of 18 square feet of un-insulated area at the attic floor.
This equates to just about 2% of the attic area (18 divided by 975).

Typical hallway push up hatch leading to an under insulated Maryland attic. Watch how a hatch gets treatment.
The hatch from the attic has a plywood cover (seen in background)
Whole house fan as seen from the attic.

With the use of the HOME ENERGY SCORE CALCULATOR we are able to calculates the impact un-insulated surfaces have on insulation performance.
The picture gets clear!
What ends up happening with this common scenario is not good. A mere 18 square feet of missing insulation has a big impact. The expected R-value reduces down from 17 to 13 for the entire attic!
That translates to hot summer nights and cold winter drafts and high energy bills to pay.
REASON:
According to Dr. Allison Bailes of Energy Vanguard, the heat flows through the bare areas fast. Based on his article, the air leaves in the un-insulated ceiling area as much as 38 times faster then the insulated areas.
Conclusion
Be sure to measure your attic insulation in precise fashion. Different areas that have different levels should be separate. Each area will get an R-value assessment. Along with knowing the condition, this weighted average calculator can then help you determine your attic's R-value.

Back to Top

Determine Your Attic Insulation's Condition
The condition of the existing insulation in an attic is also important. Obtaining the information will assist in generating reliable return on investment reporting. Current condition can also reveal clues about future comfort gains.
R-value can be misleading if several factors are not met:
Your insulation should get a rating of "poor", "moderate" or "well" insulated.

Attic Insulation in Poor Condition
Insulation with large gaps and voids. Missing insulation greater than 2% of the insulated area.
Attic Insulation in Moderate Condition
Insulation with defects and gaps around wiring, electrical outlets, plumbing and other intrusions. Rounded edges or "shouldered". The amount of fill is incomplete, but rarely dips less than 30% of intended thickness. Gaps and spaces running clear through the insulation should be no more than 2% of the insulated area.
Well Insulated Attic Characteristics
The insulation has no any large gaps or voids around obstructions. The insulation appears to fit in any cavity side-to-side and top-to-bottom. The insulation appears to around wiring and other services in the area.

Different Insulation Types & Conditions = Different R-Values
The values for the corresponding condition of your attic insulation can be multiplied by the number of inches you have to see where your attic falls on the scale.
Loose Fill Cellulose
New: 3.60 R-value per inch
Existing Well: 3.60
Existing Moderate: 3.13 R-value per inch
(Example: 6" = R19; 10" = R31)
Existing Poor: 2.7 R-value per inch

Fiberglass Batt Insulation
New: 3.14 R-value per inch
Existing Well: 2.67
Existing Moderate: 2.10 R-value per inch
(Example: 6" = R13; 10" = R21)
Existing Poor: 1.26 R-value per Inch

Loose Fill Fiberglass
New: 3.14 R-value per inch
Existing Well: 3.14
Existing Moderate: 2.73 R-value Per inch
(Example: 6" = R16; 10" = R27)
Existing Poor: 2.36
Watch a uniformly blown cellulose attic insulation job in progress!
Maryland Insulation Rebates

How the Insulation Program Works
Maryland utilities (BGE & Pepco) offer a portfolio of programs promoting energy efficiency and conservation, including rebates, education and services. The program is designed around a consultative approach.
Air sealing and insulation are considered the most important measures to complete to achieve energy efficiency - before windows, doors and replacing older HVAC.
The initial qualifier for rebates is to get a home energy audit.
LEARN MORE
Maryland Residents Learn More About the Inflation Reduction Act Here

Don't hesitate. Schedule online. Only $100 at the end.

Get a home energy audit & get questions answered such as:
Why is the room on the front of the house colder?
Do you have enough insulation?
Why is it so stuffy upstairs during the summer?
Should I remove old insulation from my attic?
Why does my HVAC run all of the time?
Is spray foam insulation the best solution for my home?
Why are my new windows feeling drafty?
Do my walls have insulation?


Wanna know more about the home energy audit process?



Energy Audit Guides

-2022 BGE Energy Audit-

-2022 Pepco Energy Audit-
Do you need an energy audit?
Check your house for any of these 5 signs...

A home energy audit is the GPS of home improvements...
Turn by turn directions to better comfort & energy efficiency.
Schedule yours today!