Residential Energy Efficiency Blog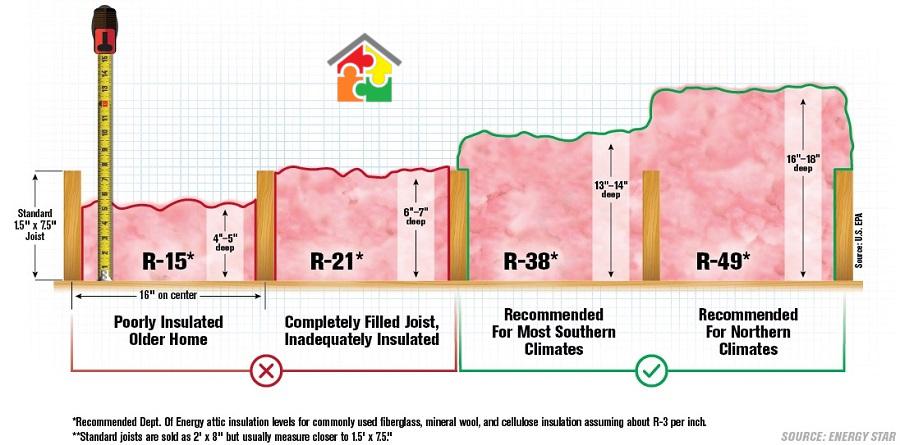 ________________
Written by Eric Gans
I have over 1000 energy audits under my belt in Maryland. I like to take my personal experiences with each of my audit customers and try to get the things that concern them out into the world so others can make good home improvement decisions - in the right order - according to their needs.
________________
In Maryland, it is recommended that our attics are insulated to R-49
No matter where you live, if you are having comfort issues in your home a good place to start when looking for answers is the attic. You must identify what insulation material exists and measure the insulation level in inches to see if you are meeting the latest building codes. Determining these two things will provide you with enough information to figure out the R-value of your insulation.
R-value is the conventional method by which the performance of insulation is measured. Insulation has one job - to resist heat flow. The higher the R-value, the better the insulation resists the transfer of heat.
Missing insulation, as you will see below, is quite impactful and should be fixed ASAP!
Insulation is very important because in summer, it is responsible for stopping the hot attic air from coming inside (it gets 150 degrees in attic!!) and in the winter it keeps the warm conditioned air from going outside (through the ceiling mostly, due to pressure).
The attic is the most important place to check first, however there are other areas that should also be considered such as the basement, overhangs and crawl spaces.

Insulation R-Value requirements in the State of Maryland
LOCATION - REQUIRED R-VALUE MARYLAND
Typical Places You will Find Insulation

Attic Flat - R49
Attic Slope - R38
Vertical Wall (basement, crawl space, knee wall) - R13
Crawl Ceiling - R25
Below Cantilever - R25
Rim Joist (top of foundation wall in basement) - R19
1st - Determine what Type of Insulation You Have
Different attic insulation materials yield different R-values based on how many inches are in place so one important piece of information to determine insulation R-value is to identify the type of insulation that was installed in your attic.
Fiberglass batts, loose fill fiberglass, loose fill cellulose, mineral wool and two-part spray foam are all insulation materials that you might find in your attic.
Need help with this?
Pop your head up in the attic and take a photo of your insulation or if you live in Maryland get a comprehensive home energy audit through BGE or Pepco.
You can also call or email it to me so I can take a look and identify it for your eric@hometrustremodeling.com or refer to the photos below to try and figure it out.

Identifying Different Insulation Types

Cellulose Loose Fill - Grey in color, more dusty and clingy than fiberglass loose fill, has bits of newspaper in it

Fiberglass Batts - Typically referred to as rolled insulation, has the kraft paper or aluminum foil on one side.

Fiberglass Loose Fill - You might see it in your attic in white, yellow, pink or grey. Much less dusty, but not as good as cellulose!

2nd - Determine a Reasonable Insulation Level in Inches
Insulation levels in an attic are rarely the same everywhere. In order to gain an true perspective on how much insulation an attic needs will depend on the cumulative amount in inches an attic has. So, as an example, if you have an attic that has 8" of insulation at the highest point and 2" at the lowest point and after surveying the attic floor, you can conclude that the level is approximately split 50/50 between the two heights then you can average things and call it 5". Of course, it is never quite that easy and it take a bit of a trained eye, but another alternative is to simply take measurements in five locations (corners and the middle) and get your number that way.
3rd - Convert the Number of Inches of Insulation into R-Value
Once you determine your type and level, it is time to figure out how to calculate for R-Value. I won't get into it too much here, but R-Value is sometimes misleading. This must be said for this reason: several factors including, installation integrity, the presence of untreated thermal bypasses (cracks/crevices where air can flow through below the insulation) and overall insulation coverage (evenly distributed) all play into the overall R-Value.
For each of the three types of insulation shown in this article (prevalent in Maryland attics), the following R-Values can be multiplied by the number of inches to see where your attic falls on the scale.
Loose Fill Cellulose - 3.13 R-Value Per inch (Example: 6 inches of loose fill cellulose = R19)
Fiberglass Batt Insulation - 2.10 R-Value Per Inch
Loose Fill Fiberglass - 2.73 R-Value Per inch
Most attics in Maryland are insufficiently insulated and are a big contributor to comfort problems, high energy bills and in some cases, poor indoor air quality.
Un-insulated Areas Play a Heavy Hand in Poor R-Values
Now lets go a little deeper and explore the impact an un-insulated surface has on the entire area when it comes to overall R-value. If you go in your attic and see any area that does not have insulation, you should really pay attention to the information below.
To demonstrate this, I am going to use a common set of circumstances in a typical Maryland attic.
For this example, the attic area is 975 square feet and flat. The home is pictured above.
At the attic floor (drywall surface of the ceilings below) there are 2" of loose fill fiberglass insulation (white). On the top of that there is 6" of rolled fiberglass batting.
Total calculated R-Value for this attic = R17
There are two major un-insulated areas in this attic. The 3' x 3' push up hatch was not insulated and there is a 3' x 3' whole house fan that was un-insulated for a total of 18 square fee of un-insulated area at the attic floor. This equates to just about 2% of the overall attic area.
The hatch has a plywood cover (seen in background)

When calculated in the handy Home Energy Score Averaging Calculator it is apparent how much of an impact un-insulated surfaces can have on the overall performance of your insulation. This calculator performs basic reciprical calculations to convert and then average the R-value in a weighted fasion. It gives you an accurate value for the performance of your insulation and can also be used to more precisely measure the R-value for a home energy audit where getting the R-value correct is important.
Calculating the actual area with insulation in combination with the areas that are not insulated yields a significant reduction in overall R-value as seen in the two scenarios above.
Conclusion: if as little as 2% of your attic surfaces are un-insulated it can have as much as a 25% negative impact on the overall R-Value.