I invite you to explore my YouTube channel, where you'll see first-hand how insulation looks in dark and mysterious attics, crawl spaces, and basements scattered across Maryland. Witness first-hand how we tackle the unique challenges found in these hidden spaces, and gain valuable knowledge on how to conquer your own house.
Like this article?
Get two free guides:
Replacement Window Report &
Home Efficiency Report
Join a community!

Learn how to move the
home comfort needle!


Save Energy
Effective Tips
From a Certified Pro
Energy Auditor
Eric Gans
Certified Energy Auditor

Residential Comfort & Energy Efficiency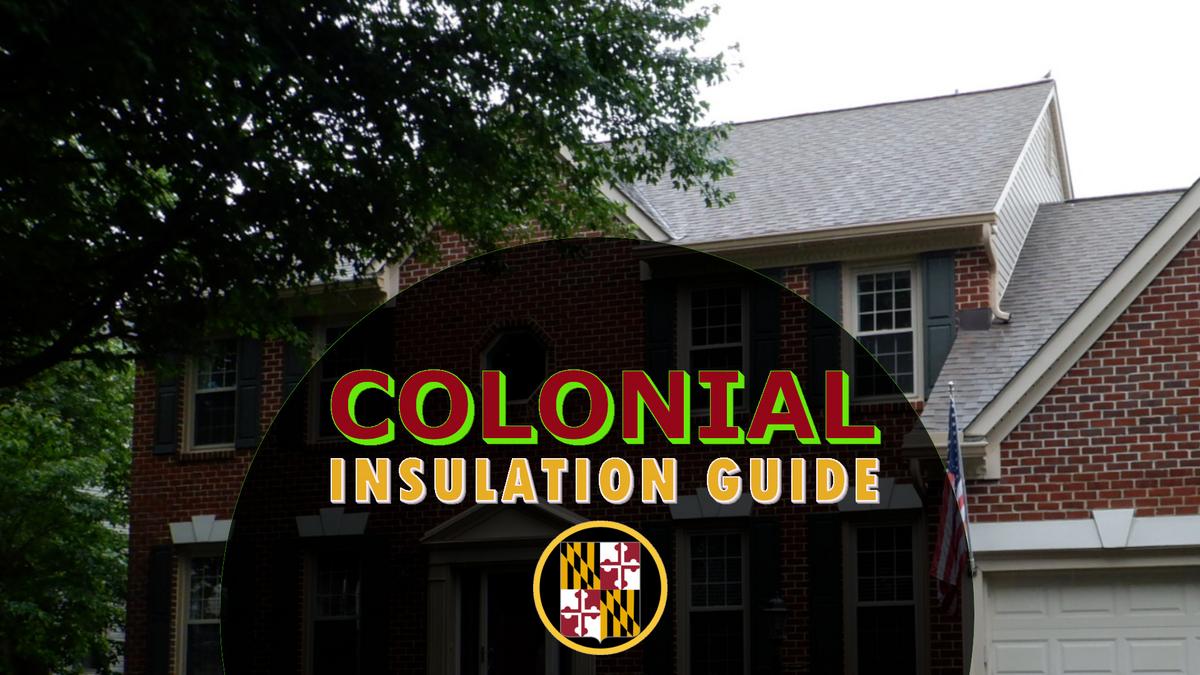 Montgomery County - Maryland

You might say that a Colonial is the most common home you will see. Usually two stories, A-framed and rectangular, they are also fairly simple - on the outside.
Inside, they are complex structures with lots of different ways your conditioned air finds ways to escape.
Colonial style houses typically have good accessibility to the key places that need to be sealed and insulated so they are usually good candidates for measurable results.
The most important areas to insulate in Colonial style homes include the attic and foundation.
First Step - Energy Audit Assessment

Getting a comprehensive home energy audit is the best way to find what places are most important to insulate around a Colonial style home.
Sometimes homeowners think an energy audit is a critique of their energy habits, but it is not. Instead, you get a certified and trained pro that shows up ready to help you discover ways to tighten up your home. And, where to look is not always as obvious as it may seem.
As an example, a well performed energy audit can sort through the HVAC system to determine ways to improve efficiency.
Opportunities to do so might include:
Sealing large HVAC duct openings in the attic

Sealing the ducts themselves

Insulating ducts

Encapsulation

Improved duct placement for better flow
Many of the biggest issues causing comfort problems are hiding in plain sight and an energy audit can illuminate them right before your eyes!
An energy audit will assess your insulation right on the spot and give you sound advice about how to improve the boundary between the inside of your home and the outside - which is the name of the game!
The Scenario: Classic Colonial with Addition
In this example, the homeowner was mainly concerned about a very cold house in the winter.
The rear addition was added around 2001. It opened up the kitchen and dining room quite nicely.
Insulation complexities can arise when new spaces are added to the existing structure.

The homeowner pointed out that the floors and cabinets were cold.

According to them, it was a let down. A lot of thought had gone into the design of the new space. Comfort was high on the list, but the plan missed the mark when it came to temperature control and they were seeking the cause and a fix.
How to Make Insulation Decisions for a Colonial Style Home
Understanding Stack Effect & How it Can Wreak Havoc with Comfort
Everyone should learn about the stack effect when ready to purchase a home.
Knowing where and how the air leaves and enters your home can play a big part in attaining better comfort.
The stack effect can be simply understood by taking one concept we all learn as young children: Hot Air Rises
Here is the SECRET: when warm air goes up in your house it creates a lot of pressure at the top and all that warmth escapes through all of the holes in your ceiling right up into the attic if modern insulation techniques are not in place.
Many of the places where this is happening you cannot see, but they do exist!
If left unchecked, warm air escapes and then physics kicks in!
+ Positive Pressure at the Top

- Negative Pressure Down Low
For every bit of warm air that leaves (positive pressure) it gets replaced (negative pressure) by cold air from the outside.
If you apply this basic concept to the different areas around your home, you may see signs that the problem is happening to you too.

In the diagrams above it gets a little clearer as to why this family was having an issue.
The rear addition included two cantilevers to add to the overall square footage. These features are sometimes susceptible to air leakage if not insulated right and can cause hot and cold spots around a home.
Watch how leaky this cantilever is during a whole house air leakage test (blower door test).
How we Seal and Insulate Cantilevers
Humid Basements - Tipping You Off to High Air Leakage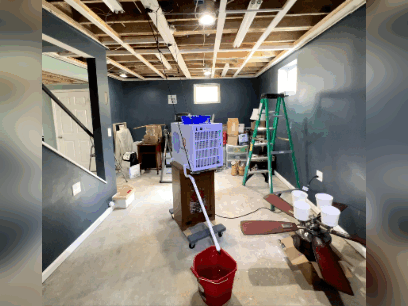 Basements can be major sources of energy loss by introducing warm humid air into the house in summer and cold dry air in the winter.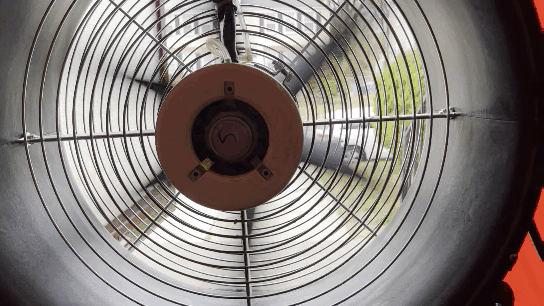 Sealing the air leakage around the top of the foundation wall in a Colonial style home is beneficial.
Sealing the Top (Attic) of a Colonial
With this powerful information about air movement, the first thing to do is look for ways to seal gaps at the TOP of your home.
Major sources of air leakage at the top of a typical Colonial style house include:
HVAC Chase

Chimneys

Recessed Lights

Tops of 2nd Floor Walls

Attic Access Points

Electrical Wiring Holes
An chase is a pathway behind walls that HVAC takes to get where it needs to go. These conduits are built into the home and should be somewhat inconspicuous. They house plumbing, ducts and chimneys. They are often responsible for a big temperature variance between floors.
Air is omni-present within the six sides of our buildings. Therefore, any open hole/gap at the attic floor (top floor ceiling) is a connection to the inside of your home.
Add pressure (stack effect) and air can escape really fast.
Don't be fooled anymore into thinking it is the windows that are causing your drafts and high energy bills.

Example of an Open Plumbing Chase (Bathroom Side)

Example of an Open Plumbing Chase (Attic Side)
The Importance of Properly Installed Insulation
There is a false sense of security many homeowners have about their insulation.
Many make the mistake of relying on seeing insulation in the normal places as a firm signal that their house is well-insulated.
Most often it is quite the opposite. Usually, insulation levels are severely insufficient and a lack of air sealing makes existing insulation R-values less than what is listed on the package.

Hot Second Floors During Summer Are a Tell-Tale Sign that Your Insulation is Weak
Hot summers were another reason this homeowner was fed up and decided to take the next step. On hot humid Maryland summer days, it was nearly impossible to cool the bedrooms down.
If this is happening to you, it is a sign that your insulation is not working well for you.
Most insulation has one job - slow the transfer of heat. With the sun beating on your roof, radiant heat surges into the attic. When left unchecked - guess where it goes?
Directly into your house!

The right amount of insulation is needed to improve the boundary and optimize your ability to slow the movement of the heat.
During the winter, the insulation will help to contain your warm air inside your living bubble. During the summer months, it will work to keep the warm air out.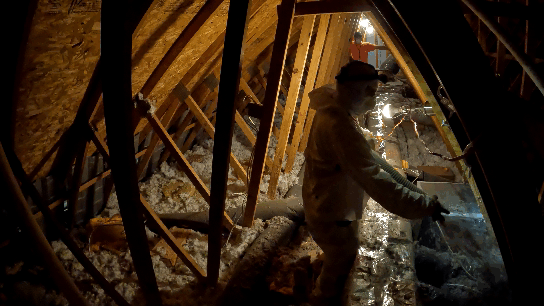 Identifying Insulation Problems in the Attic
Take a look at the attic inspection from the same Colonial style home energy audit.
See first-hand how it had many gaps to seal and insulation was missing leading directly to the comfort problems this family faced.
Learn about the following at various points in the video:
0:00 Start the Attic Assessment
0:40 Discolored Insulation Meaning
2:28 Uninsulated Pair of Skylights in Attic
3:09 Bathroom is Connected to the Attic
5:53 Closer Look at Bathroom Exhaust Fan
7:02 A Close Up Look at an Attic Baffle
9:03 How We Air Seal an Attic
9:21 See a Properly Insulated Skylight
9:47 Attic Hatch Treatment Process
10:50 Cantilever Blocking & Insulation Photos
Knee Wall Complexities
Colonial style homes that were built in the late 80's and beyond sometimes feature sloped ceilings and multiple skylights. These raised areas of the ceiling create walls in the attic that need to be properly insulated. Often times, they are not.


Gravity takes over with vertical attic knee walls and insulation is often times pulling away or completely falling.

Knee walls are created when the bedroom or hallway ceiling raises up and an adjacent space has a traditional 8' flat ceiling.

When improperly insulated or as in some cases, not insulated at all, knee walls tend to lead to hot summers on upper floors of Colonial style houses.

Where Can You Begin When it Comes to Insulating Your Colonial Home?
A really great way to not get overwhelmed when it comes to improving insulation is to focus on the low hanging fruit.
When you seal and insulate in the right places, it can actually go a really long way towards better comfort and controlled energy bills.
Tightening up your Colonial style home is not an all or nothing type of approach, rather it can be methodical and targeted to yield the best results.