I invite you to explore my YouTube channel, where you'll see first-hand how insulation looks in dark and mysterious attics, crawl spaces, and basements scattered across Maryland. Witness first-hand how we tackle the unique challenges found in these hidden spaces, and gain valuable knowledge on how to conquer your own house.
Like this article?
Get two free guides:
Replacement Window Report &
Home Efficiency Report
Join a community!

Learn how to move the
home comfort needle!


Save Energy
Effective Tips
From a Certified Pro
Energy Auditor
Eric Gans
Certified Energy Auditor

Residential Comfort & Energy Efficiency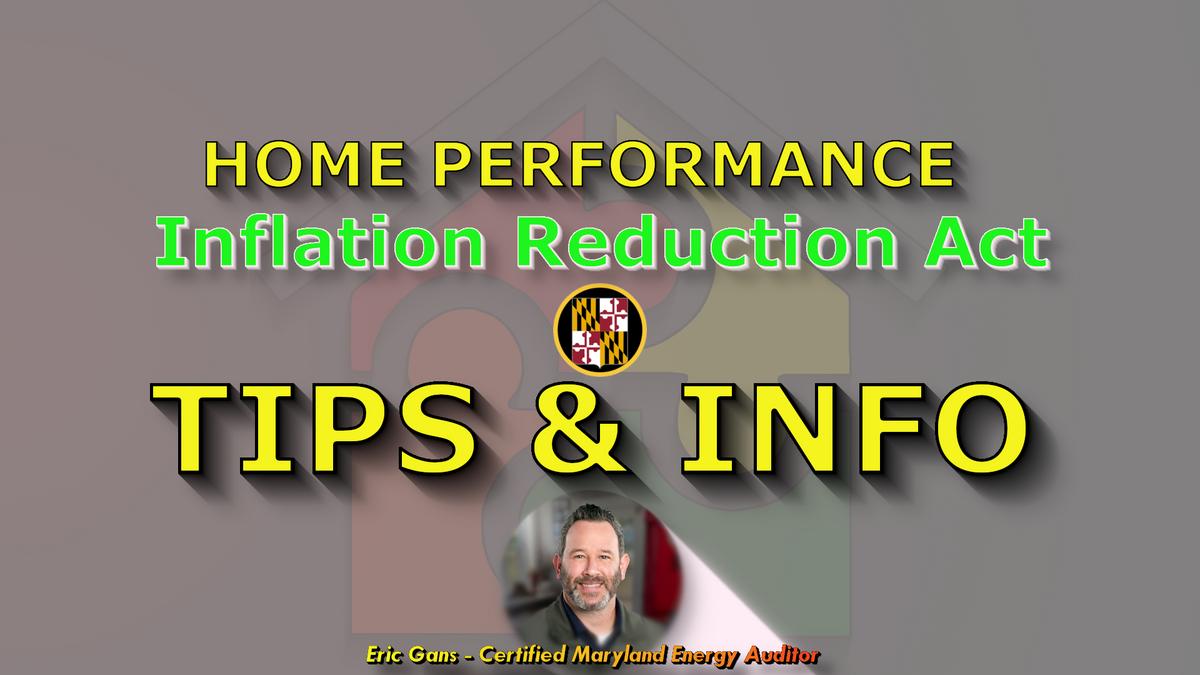 I have over 2000 energy audits under my belt in Maryland. I enjoy teaching what I know to help guide homeowners towards better comfort & energy efficiency. It took me a while to figure things out. I can show you in a few hours.
The Future of Maryland Home Remodeling
The Inflation Reduction Act includes several incentivized programs to promote energy efficiency and combat climate change.
A big part of the bill gives rebates to homeowners who make the right energy-efficient upgrades to their homes.
Don't mistake this program for a rebate on windows and doors!
Even the President does not fully understand Home Performance, yet!


This is more of a Home Performance type of solution with Energy Audits and Whole House Solution Based Approaches that include impactful improvements like air sealing, insulation & duct sealing.

WATCH: Understanding how Maryland's current Home Performance with ENERGY STAR Program reports work will give you good insight.

Whole house solutions look to seal your house so your HVAC works less - saving you energy.

How Maryland Homeowners Will Benefit
This provision of the bill incorporated elements of legislation that Maryland lawmakers voted for called "HOPE for HOMES."
U.S. Sen. Chris Van Hollen said there are "tremendous savings" in using energy more efficiently.
He pointed to the biggest hold up to a homeowner making improvements in their home to lower energy usage is the up-front cost.
Sometimes the up-front costs overshadow the savings gained over time and the 2022 bill makes getting the work done more attractive and affordable.
Under the Inflation Reduction Act, many homeowners will be eligible to recoup up to 50% of energy improvement costs — up to a maximum rebate of $4,000. Lower-income homeowners could be eligible for more generous rebates of up to 80% of costs, a maximum of $8,000.
INFLATION REDUCTION ACT SNAPSHOT SUMMARY: courtesy of Energy Circle
Rebates & Training Grants
Maryland residents can expect two major rebate program roll outs, better tax incentives and training dollars for local contractors to learn the key principles in order to keep up with demand.
2 MAJOR REBATE PROGRAMS FOR MARYLAND HOMEOWNERS
$4.3 Billion for HOMES (Home Owner Managing Energy Savings) Rebate Program
Rebates up to $4,000 for home energy efficiency retrofits with modeled energy savings of 35% or more (or $2,000 for 20-34% energy savings)

Services can include insulation, air sealing, heat pump/HVAC upgrades, and more

Additional rebates up to $8,000 available for low and moderate-income homeowners

Rebates cannot be combined with other federal grants or rebates
$4.5 Billion for High-Efficiency Electric Home Rebate Program
Rebates for low and moderate-income homeowners for electric system/appliance purchases and energy efficiency upgrades

Maximum rebate of $14,000; individual rebates are as follows:

Heat pump water heaters: $1,750

Heat pump HVAC systems: $8,000

Electric stoves: $840

Heat pump clothes dryers: $840

Electrical panel upgrades: $4,000

Insulation, air sealing, and ventilation: $1,600

Electric wiring: $2,500

Rebates cannot be combined with other federal grants or rebates
Tax Credits
More immediately, the new bill makes changes to tax credits for energy efficiency upgrades.
25C Tax Credit - Energy Efficiency Home Improvements (The Nonbusiness Energy Property Tax Credit)
Credit revived and made retroactive for 2022 (at original 10%). It went away and it is back!

Starting in 2023, the credit increases to 30% of total installation costs through 2032

The current lifetime cap of $500 will be replaced by cap of $600 per measure, with $1,200 annual total limit (exceptions listed below)

Eligible services and home improvements include:

Heat pumps and heat pump water heaters ($2,000 credit)

Insulation and air sealing

Energy audits ($150 credit)

Energy-efficient HVAC systems (including furnaces, boilers, and central AC)

Electrical panel upgrades

Energy-efficient windows and doors ($500 credit for doors)

Roofs are no longer eligible

FOR MARYLAND CONTRACTORS
The fact that there is a provision to train contractors is a strong indicator.
There is going to be a huge need for home improvement professionals to cross from other trades into home performance.
Just look at this report about the growing need for energy auditors and other professionals that will need to learn more about home performance - likely just to keep doing their own craft.
For example:
Window people

Siding people

Roofing people
$200 Million for State-Based Home Energy Efficiency Contractor Training Grants
Training for contractors involved in installation of home energy efficiency and electrification improvements

Funding through September 2031

Conclusion
What is not clear as of yet is how these newly introduced funding and program parameters will fit into Maryland's current Home Performance with ENERGY STAR® Program which already offers incentives to Maryland homowners that make the right energy efficient upgrades to their attics, basements and crawl spaces.
Subscribe to my blog for updates and they piece things together.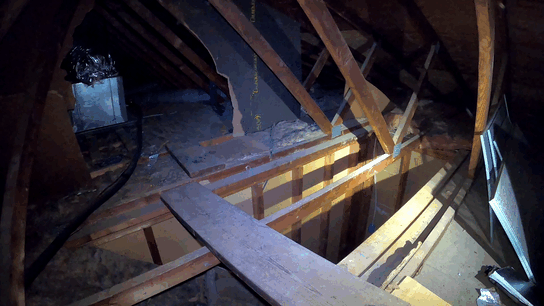 Home performance work makes the difference in energy savings and better home comfort.
What is lurking in your attic?