I invite you to explore my YouTube channel, where you'll see first-hand how insulation looks in dark and mysterious attics, crawl spaces, and basements scattered across Maryland. Witness first-hand how we tackle the unique challenges found in these hidden spaces, and gain valuable knowledge on how to conquer your own house.
Like this article?
Get two free guides:
Replacement Window Report &
Home Efficiency Report
Join a community!

Learn how to move the
home comfort needle!


Save Energy
Effective Tips
From a Certified Pro
Energy Auditor
Eric Gans
Certified Energy Auditor

Residential Comfort & Energy Efficiency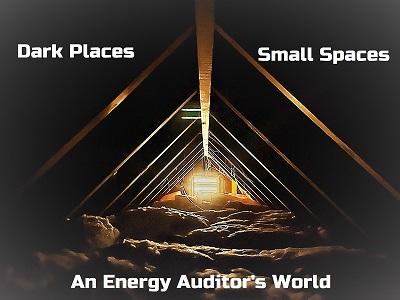 Written by Eric Gans

I have completed over 2000 comprehensive home energy audits in Maryland through the Home Performanc with ENERGY STAR® Program.


---
I run an energy audit firm and I have to keep track of money. It is very important. I need to know the basics and I need to be organized.
But, I need to hire an accountant to guide me with my taxes and maintain a good status with the State of Maryland and the IRS.
Home energy auditors, much like accountants, help people navigate complicated systems.
Getting an energy audit is a great way to avoid common home improvement pitfalls. It can guide you towards avoiding decisions that could end up costing you peace of mind and extra money - like an accountant helps you avoid paying extra taxes.
We cannot be experts in all areas. We need to reach out and find guidance in different parts of our lives, particularly more complex things - like taxes and your home's energy efficiency.
Believe me, a former window contractor, where you lose energy inside your home is not as obvious as it may seem...

Houses are Complex Systems

The dynamics inside your home are complex. Heat rises, creating pressure at the top floor ceiling.

When it comes to owning a home there is a lot to learn about how to navigate towards better comfort and lower energy bills.
I can tell you, without a doubt, the overwhelming majority look to windows and HVAC as the two main sources of their comfort woes leading to thousands of dollars being spent on the wrong solution.
Windows make the most sense to people as a logical place that air is getting in and out of their house. Most also think that if you want better comfort inside when you turn the thermostat up then new HVAC is the way to go.
And, those two solutions are pretty far off from getting to the root cause leaving many scratching their heads.

Getting Good Guidance on Home Improvement Priorities
Prior to becoming a certified home energy auditor I co-owned an exterior remodeling company. As it turns out, learning about windows, doors, roofing and siding all were critical to understanding the importance of what goes on in an attic.
One important transformation that I struggled to get through is reversing my incorrect logic about how and where a home loses energy. I had to overcome years of being taught and actually teaching - the wrong things!
When I became a building scientist I realized that the attic is where the magic can happen if you want to experience real changes in your home's overall comfort.
The attic, and a proper assessment, will yield a lot of important information that can help you save energy.
For example, most people believe that adding an attic fan to their attic will help during the summer. It is thought that reducing the attic temperature will create a better, more comfortable environment on the inside, particuarly on the top floor.
But, here is the thing, it won't and if you stop and think about what is actually happening, it makes so much sense.
A big issue that makes older houses less efficient is that they are too connected to the attic through gaps, cracks and crevices that cannot readily be seen. The "gateways" between the inside and outside (attic) are perfect avenues for your cold air to take when it gets pulled right up by the attic fan's negative pressure.
That's right, the attic fan in the roof has the complete opposite effect of what Maryland homeowners are expecting and people's comfort ends up decreasing and they use more energy!
Getting a home energy audit can help you avoid making a mistake such as adding an attic fan without first air sealing the attic floor.
Air sealing is critical to move a home towards better comfort and efficiency.

In this case, spending the money to seal will go much further towards better comfort and energy savings compared to having a fan installed in the roof - not to mention some of the other potential issues that it could cause if not done right and the fact that the attic fans always burn out after not a long time.
And, there are rebates available through BGE and Pepco for air sealing.
How a Home Energy Audit Can Illuminate the Root Causes of Comfort Problems
I think it is safe to say that we all know someone or a friend of a friend that can say that if it were not for getting that test done or doing those regular check ups, "I may not be alive today".
An energy auditor might not save your life, but we can lead you to the source of the issue and help you find the right solution so the problem gets better and you don't spend extra money.
Fact: Most people avoid the attic.
I know the feeling because I used to hate going anywhere near an attic. It is dusty, dark and things could be living up there.
The motto for most when it comes to their attic or crawl space: out of sight - out of mind.
But, the attic is the place where the action is happening. It is at the heart of every home comfort issue that I have helped mitigate and it needs to be assessed properly.
The attic will shed light on why the house is drafty and why the energy bills are so high and it typically can be tied to lack of insulation and no air sealing.

Unobvious Attic Problems
Most believe that if insulation is in place and if they can't see the ceiling joists then they are okay. But, an attic that can be considered properly insulated must not only have the thermal boundary in place (insulation), but it must also have a well-installed pressure boundary (air sealing).
Fact: Most houses built before 2015 are not fully air sealed.
The key to understanding why air sealing is important is to understand two key things:
A. We need to try and seal all six sides (planes) of a building.
1. Front
2. Back
3. Left Side
4. Right Side
5. Bottom
6. Top
B. Pressure is the main driver behind energy loss and comfort problems.
1. Winter pressure - hot air rises to the ceiling and flows through when insulation is not done right!
2. Summer pressure - hot air in the attic builds up and seeps down when insulation is not sufficient!
Another common problem in many Maryland attics that is not easily detected is an open chase at the attic floor. Space is created between walls inside of the house for ducts and other important mechanical items to run through so they are not seen.

Watch this short video of an open chase at an attic floor and see exactly how we make it part of the top plane (attic floor).

Complex Attics Need a Proper Assessment
When I moved into one of my first homes as I entered my 30s I remember spending time thinking about all the ways I would use my space. It was not until an electrician I hired to install a ceiling fan mentioned my insulation looked really low. Then I started to consider my attic as a part of my house as well.
I poked my head up out of curiosity. I distinctly remember feeling two things:
1. I do not want to go any further
2. I have no idea what I am seeing
There was another time prior to becoming an energy auditor that I recall going in an attic. It was a townhouse in Laurel Maryland. The house had big sloped ceilings and when I went into the attic I felt like I was on another planet and I was literally scared to move around.
If this is you - don't feel bad!
An energy audit will explore the different contours and features in your attic and assess the effectiveness of the material. It is one thing to have insulation in the right place and it is another thing to see to it that it is installed correctly.
The three biggest problems in Maryland attics that if left unchecked will cost you the most:
1. Poorly sealed/ insulated HVAC ducts
2. Low or missing insulation
3. Large holes connecting attic to house
You have to see these things to believe them!
Watch this attic assessment guidance video highlighting a few common problems in Maryland attics.

Next Steps


Don't Have Enough Insulation?
Not interested in poking around in your attic?

Get a home energy audit & get questions answered such as:
Should I use blown-in insulation or rolled insulation?
How much insulation do I need in my attic?
How do I properly vent my crawl space?
Should I remove old insulation from my attic?
What is the best way to seal my crawl space?
Is spray foam insulation the best solution for my home?
Why are my new windows feeling drafty?
Should I insulate the walls in my home?
What areas should I seal to reduce drafts?

Through BGE Here

Through Pepco Here

For only $100 through the Home Performance with ENERGY STAR Program - I am qualified to get all of the answers for you!
Questions are welcomed and I would really love to know if this article has helped you or if there is any suggestions you may have to simplify the process.