I invite you to explore my YouTube channel, where you'll see first-hand how insulation looks in dark and mysterious attics, crawl spaces, and basements scattered across Maryland. Witness first-hand how we tackle the unique challenges found in these hidden spaces, and gain valuable knowledge on how to conquer your own house.
Like this article?
Get two free guides:
Replacement Window Report &
Home Efficiency Report
Join a community!

Learn how to move the
home comfort needle!


Save Energy
Effective Tips
From a Certified Pro
Energy Auditor
Eric Gans
Certified Energy Auditor

Residential Comfort & Energy Efficiency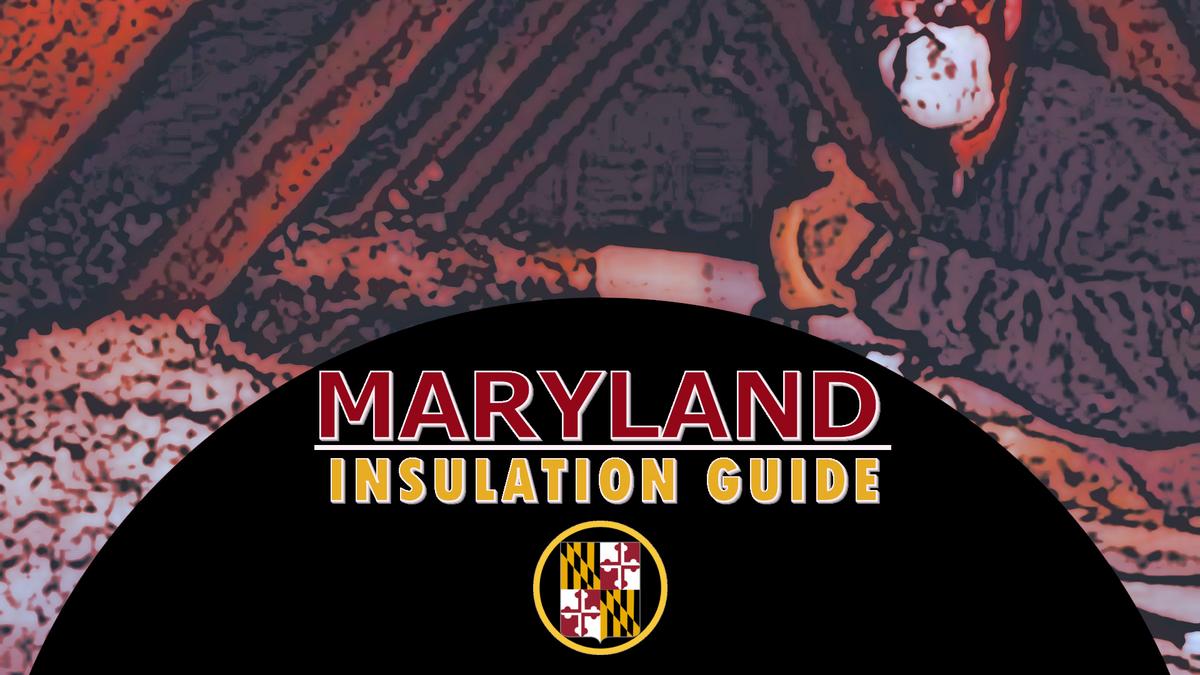 Written by Eric Gans, Building Analyst & Envelope Professional
I'm a certified energy auditor and insulation contractor in Maryland. I have completed over 2000 energy audits and taken over 2000 trips to an attic.

---
Maryland Home Insulation Guide

An under-insulated attic is the #1 reason for poor home comfort and high energy bills. Use this guide for Maryland home and attic insulation solutions.

---

Well-Insulated Attic
3 Characteristics

1. No significant gaps
2. Fits in any cavity
3. 13-18" Depth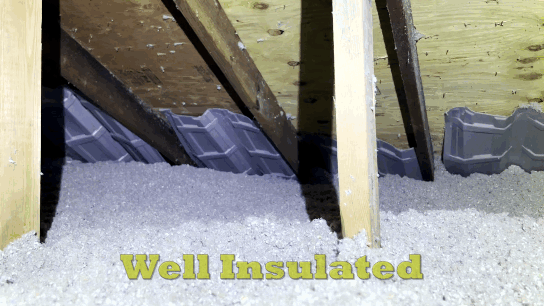 ---
Does that look or sound like your attic insulation?
Not likely...ENERGY STAR says 9 out of 10 homes are under-insulated, and everything I see in Maryland attics proves it.
According to a recent Forbes Magazine article, there are approximately 124 million houses in the United States, and roughly 20% were built before 1980. Older homes mean older, outdated methods of insulating that don't measure up to today's standards.
So where do you begin? This guide can help. It will answer many of the questions homeowners have about insulation.
---

RESOURCE TOPIC LINKS
Whole-House Assessments
🌞 Seasonal Guidance ❄️
Insulation Guidance Tools
Is Insulation Worth It?
Which Insulation Is Best?
💵 How Much Does Insulation Cost?
Home Performance Solutions
Maryland Rebates & Tax Credits ℹ️

---
If your home is older than ten years, then you are likely not meeting the 2023 Maryland home insulation building code. If you see insulation, it does not mean it is working for you.
You gotta know what to look for...
The State of Maryland recommends that our attics have enough insulation to equal R-49.
Existing insulation in a Maryland attic is inconsistent for a variety of reasons. Air sealing and insulation are essential for a tight, energy-efficient home.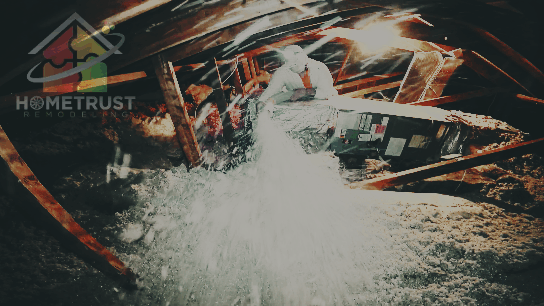 ---
Get a Whole-House Energy Assessment
Start Your Journey

If you know you need insulation services in Maryland and are looking for a logical next step; it might be a good time for an energy audit.
Feel free to set up your Home Performance with ENERGY STAR® energy audit now and then bail out of this guide.
If you are not sure, I recommend exploring the resources below. You can learn more about the BGE and Pepco Programs. The $100 assessment can help you navigate to a more efficient home:

Home Performance with ENERGY STAR® Reporting (Video)
-Getting a feel for how the energy audit report works and what it measures can make the "lightbulb" go off!
BGE Energy Savers and Pepco Energy Savings Program
-Learn about how the program works to help Maryland homeowners find the right solutions.
Approved BGE and Pepco Contractor (About Us)
-From window contractor to Building Science student - experience in the field shines through.
Find YOUR Pathway - Dial In On Your Comprehensive Energy Audit
-Getting an energy audit is the first step in a successful journey towards improved home comfort and lower energy usage.
5 Signs You Need a Home Energy Audit
-Homeowners can use these five signs around the house to determine if a home energy audit is worth the investment.
Example Energy Audits Based on the Style of House
-Examples include Cape Cod, Colonial, with Garage, Rancher
Home Energy Audit Takeaways - Short YouTube Series
-Thirteen episodes do a great job of taking you through several insulation scenarios, including treatment and results.


---

Summer & Winter Insulation Guidance

Attic insulation can significantly impact your comfort, energy bill, and HVAC performance. A well-insulated attic can make an old heating and cooling system seem new.
Insulation will gain your respect on an extreme weather day! Attic insulation in Maryland homes is vital to comfort each season.

Summer: Insulation improves a home's defense against the heat in several ways. Check out these resources to help you keep cool when the heat rises:

Controlling Hot Upper Floors
-Learn about modern air sealing and insulation techniques in Maryland that can help you improve hot upper floors during the summer.
Ways to Maximize Your HVAC Performance
-In Maryland, HVAC ducts should be sealed and insulated if they run outside of the living space.
Reduce Indoor Humidity
-Learn how to avoid blaming the wrong source and spending money on the wrong solution.
Winter: We place caps on our children's heads on a cold day to keep the heat from escaping, and we need to do the same to our homes. Check out these great ways to change the trend and get a hold of always being cold:

Preventing Rapid Heat Loss
-Attic air sealing is one of the most effective ways to improve home comfort and energy efficiency - learn the basics.
Improving Indoor Air Quality
-Learn about the relationship between indoor air quality, air changes per hour, and energy efficiency for your home.
5 Things That Are Not So Obvious to Help with A Cozier Home
-Use these 5 do-it-yourself tips in 2023 to improve comfort and reduce energy bills.
Get All Of Your Rooms Back!
-Check out how this family strived toward a comfortable addition, but the effort fell short and was unusable in cold months.


---
Insulation Guidance Tools

Tool # 1 The R-Value Calculator
Use this helpful tool to determine your current attic R-value and get a feel for where your protective barrier stands against current recommendations.
You need to take two steps for this tool to work.

STEP 1: Get Your Attic's Current R-Value
Tasks Required
1. Determine the type of insulation you have in the attic now.
2. Determine your current insulation level in inches and note any areas (up to three) with major level variants.
3. Determine the condition of your current insulation.
STEP 2: Calculate Your Attic Area
Tasks Required
1. Measure the length and width from below for any attic area to calculate the square footage.
2. Note the exact square footage of any area with different insulation levels (up to three). Use a laser measure to make it easy!
Once completed, you will be much closer to knowing if you are up to the Maryland building code and ENERGY STAR.


Tool # 2 The Home Self-Assessment
Use this survey to determine if getting an energy audit is worth the money.
If you are like most, chances are you do not want to visit your attic and dig around.
A better way to get your insulation checked is to get an energy audit.


---
Is Getting Home Attic Insulation Worth It?

The insulation your attic needs will depend on how much is there now. Getting it right will ensure you earn the best return on your investment (ROI) and meet the 2023 Maryland building codes.
This can be a little tricky. Calculations can be off if the information is not gathered right. The condition, coverage, and depth of the insulation are each important.
Take notice if you have any area in your attic that does not have insulation.
One example is 18 square feet of uninsulated area in a 1000-square-foot attic. It reduces the R-value. Missing insulation will lead to comfort problems and high energy bills.
REASON:
According to Dr. Allison Bailes of Energy Vanguard, the heat flows through the bare areas fast. He says warm air leaves in the un-insulated ceiling area 38 times faster than in the insulated areas.
To learn more about this common insulation problem, look at this article about how uninsulated areas play a heavy hand in poor R-values.
---
Which Insulation is Best for Maryland Homes?
It is essential to measure insulation through a different lens. Try not to focus on which insulation is better. Instead, please focus on the proper R-value, especially for the places where it is most important.
There are two things to know about R-value:
1. How to Measure R-Value
Insulation has one job - to resist heat flow. The higher the R-value, the better the insulation resists heat transfer.

2. How R-Value Requirements Change
As your home's features twist and turn, insulation requirements change. R-values decrease in less critical areas.
For example, a knee wall created by a sloped ceiling needs less R-value but a knee wall does require special care and attention in other ways.
Knee walls are common in Maryland.

Check out this comprehensive article about attic insulation requirements and understanding the R-value, particularly for Maryland houses.
The attic is the most important place to insulate first. Other areas should also get treatment, such as:

Basement Insulation (Video)
-Properly sealing and insulating a basement in the right places can yield excellent results.
Overhangs/Cantilever Insulation (Video)
-Properly insulating a cantilever in Maryland requires a contractor that is familiar with siding, insulation, and carpentry.
Crawl Space Encapsulation
-Modern air sealing and insulation techniques can turn a dark crawl space into the reason your home is more comfortable.

Typical Insulation Materials Found Around Maryland Houses
Loose-fill cellulose

Fiberglass batts

Loose-fill fiberglass

Mineral wool

Two-part spray foam
The values for the corresponding condition of your attic insulation can be multiplied by the number of inches you have to see where your attic falls on the scale. Learn how to determine your attic insulation type, condition, and current R-Value.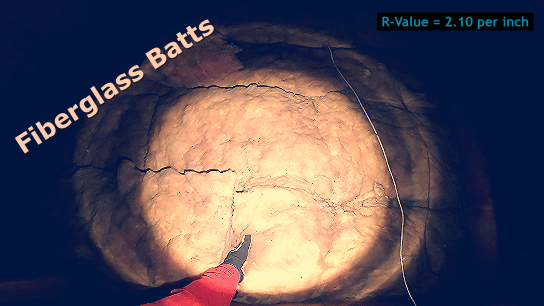 Batt Insulation: Prevalent and, unfortunately, the worst performer.
---
How Much Does Insulation Cost?


Home Performance contractors look for insulation fixes in existing homes that will make the most impact for the lowest cost. Accessible areas are first priority and usually the most important. Investigation and testing play a role in helping to shape solution decisions. Taking this approach will factor in the overall cost.
Here are important considerations if you plan to insulate your home:
Insulation Misperceptions & Incorrect Solutions
-Nobody likes to go down the wrong rabbit hole when fixing a problem.
Building Pressure Boundary
-Don't skip a step to save money by adding insulation without sealing first.
Building Thermal Boundary
-Do you really need to pay to remove the insulation before adding more?
Skilled Building Science Technicians
-Hiring a contractor with certifications and experience is essential and worth the investment.
Testing & Measuring Results (Video)
-Home Performance contractors use sophisticated equipment to measure results for calculated ROI.
---
Intro to Home Performance



ENERGY STAR® says to look at the many systems around your home. Evaluating the "whole house" can lead to better comfort and efficiency. Their stats show that 9 out of 10 homes in the U.S. are under-insulated.
According to the EPA, existing houses have several opportunities for energy-efficient improvements. Many discoveries go beyond replacement windows and cost less than windows.
Home Performance Categories:

Attic and Whole Home Air Sealing
-Air sealing the right places in your home will improve comfort and lower your energy bills.
Attic & Basement Insulation
-Insulation, in tandem with air sealing, are a dynamic duo that will solve hot rooms and cold drafts.
Crawl Space Encapsulation
-Learn about why making a crawl space like the San Diego climate without the sun is the way to go.
Whole Home and Attic Ventilation
-A well-installed bathroom exhaust fan in Maryland should include testing and venting to the outdoors.
HVAC Duct Sealing and Insulation Improvements
-Duct leakage assessments to stop condensation issues and improve the HVAC system's overall efficiency.
IECC New Construction Energy Compliance Testing
-Air leakage testing requires a certified and experienced technician to comply with Maryland's new construction energy codes.
Exterior Insulation Solutions
-Overhangs and other odds and ends.

---
Maryland Rebates & Tax Credits

How the Insulation Program Works
Maryland Utilities (BGE & Pepco) offer a portfolio of programs promoting energy efficiency and conservation, including rebates, education, and services. The program is designed around a consultative approach.

Air sealing and insulation are considered the most critical measures to complete to achieve energy efficiency - before windows, doors, and replacing older HVAC. The initial qualifier for rebates is to get a home energy audit.
Get a home energy audit & get questions answered, such as:
Why is the room on the front of the house colder?
Do you have enough insulation?
Why is it so stuffy upstairs during the summer?
Should I remove old insulation from my attic?
Why does my HVAC run all of the time?
Is spray foam insulation the best solution for my home?
Why are my new windows feeling drafty?
Do my walls have insulation?
Learn much more about the programs designed to help YOU
How to Unlock Maryland Utility Rebates
-Learn how to correctly insulate your Maryland attic and unlock 2023 BGE and Pepco rebates.
Attic Insulation Rebates for BGE Customers
-Qualifying for BGE energy rebates depends on an energy audit through the Home Performance with ENERGY STAR Program.
PEPCO Customer Attic Insulation Rebates
-Pepco energy saving rebates are unlocked after getting a comprehensive energy audit.
Inflation Reduction Act & Maryland Homeowners
-Maryland residents can learn to use the new Inflation Reduction Act.
2023 Complete BGE Energy Audit Guide
-Get All YOUR questions answered with this comprehensive guide about all things related to a BGE home energy audit.
Complete 2023 Pepco Energy Audit Guide
-Learn more about all things related to a comprehensive Pepco home energy audit.