I invite you to explore my YouTube channel, where you'll see first-hand how insulation looks in dark and mysterious attics, crawl spaces, and basements scattered across Maryland. Witness first-hand how we tackle the unique challenges found in these hidden spaces, and gain valuable knowledge on how to conquer your own house.
Like this article?
Get two free guides:
Replacement Window Report &
Home Efficiency Report
Join a community!

Learn how to move the
home comfort needle!


Save Energy
Effective Tips
From a Certified Pro
Energy Auditor
Eric Gans
Certified Energy Auditor

Residential Comfort & Energy Efficiency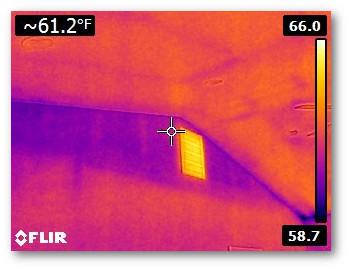 What is a Knee Wall?
A knee wall is best described as a vertical wall that touches living space on one side and it also touches the "outside" on the other side. The difference between a knee wall and an exterior wall is that the knee wall typically has one side to the inside living space and one side to an attic area. Notice here how the attic is referred to as the outside. Knee walls are created in houses where the inside living space is more complex. For example, vaulted ceilings, spaces over garages, lofts, skylights, bulkheads, dormers and other interior designs create the need for a proper understanding of a knee wall and how it can quietly cost you comfort and money.
How to Properly Treat a Knee Wall
Properly treating a knee wall requires three steps. Step one - air seal all of the cracks, crevices and voids. Second, add insulation to R13 and make sure the insulation is installed correctly. Finally, sheathing should be installed behind the insulation so it is snug in the cavity, in good contact with the surface wall and there is virtually not chance the insulation can fall back down.
Different Types of Knee Walls
Vaulted Ceiling Knee Wall. One classic knee wall is created when a portion of the upper floor has a traditional eight foot ceiling and perhaps a bedroom or hallway has a vaulted ceiling that rises up at the highest point to thirteen feet. The vertical wall area that transitions from thirteen down to eight is the knee wall area. This is very common in newer homes built between 1980-present.

This knee wall is created by the vaulted ceiling with 8' ceiling on other side

Basic Attic Knee Wall. A basic attic knee wall is created in a Cape Cod style home where the upper floor is built into what a traditional attic space might be in a home of different construction type. If you can imagine being in a house with an A-frame style roof and your head is about 3-5 feet from the apex of the roof. Considering where your head might be in a house with a traditional attic, the idea can take shape. A big sign of a knee wall in a living space like this would be a sloped ceiling.
Bulkhead Knee Wall. A bulkhead knee wall is mostly found in upper floor bathrooms and bedrooms, but occasionally this will be found in kitchens and other areas of the home, particularly if the home is only one story. A house could be two stories, but the kitchen could be built in a one story section of the home in which case a bulkhead could be considered a knee wall. The main point to consider is that a change in ceiling height (lowering) in a location that is connected to an attic should get attention for proper insulation.

Thermal imaging reveals incorrectly installed insulation at the bathroom bulkhead

Skylight Knee Wall. The drywall areas that create the skylight "tunnel" rise up through the attic and are joined to the framing almost directly at the decking underneath the roof so that the skylight can be installed and it will allow the natural light into the living space below. The walls inside the skylight cavity are dynamic knee walls in that they are outside to inside surface on all four sides.

Most Maryland houses with skylights have inadequate knee wall insulation

Dormer Knee Wall. Dormers come in all shapes and sizes and as a result can add a nice structural feature to the front or rear of a home and they also serve a practical purpose by adding more area to the inside of a home. The biggest challenge for Maryland homeowners that have a dormer is how to properly insulate the area and making sure the pressure and thermal boundary are properly aligned.
Knee Wall Created by an Addition. A knee wall is sometimes created by an addition depending on how the existing structure is built, where the addition is going to be built and what is the most economical solution which sometimes creates knee walls that could have otherwise been avoided. Not that there is any issue with having a knee wall, more so the issue comes into play with how to properly seal and insulate the knee wall to maintain comfort and energy efficiency in the new area of living space as well as the existing conditioned area.
Knee Walls are Silent Energy Wasters
Because knee walls are common, but they are not commonly identified, knee walls can sit there for year after year and leak comfort and money away. The attic is a less then desirable place to visit. It is stifling in the summer and frigid in the winter. It is dusty and the insulation is dirty and most people will simply feel itchy when thinking about fiberglass insulation. As a result, gravity takes over and because of the knee wall insulation methods that were being used over the past sixty years, the insulation begins to sag and fall.

A visit to this attic revealed insulation was missing unchecked for a long time

Why Knee Walls Need Special Attention
Insulation is only going to work if it is in good (almost perfect) contact with the surface in which it is meant to insulate. Unfortunately, due to poor installation, exposure to wind and air flow as well as workers and other visitors to the attic, insulation is rarely in good contact with the attic floor (ceiling of upstairs) let alone the vertical knee wall. As a result you get insulation slipping. Gravity is a powerful thing, particularly when it has nothing but time to do it's work.