Before and after in home performance contracting is much more about the measured results compared to other home improvement projects that place much more value on the aesthetics.
Ways to measure attic air sealing and insulation projects can be done in several ways:
1. Overall comfort for the occupants of the home.
2. Lower monthly energy bills.
3. Blower door air leakage test-in and test-out results.
Understanding how to treat the different problems we face in Maryland homes is the key to discovering whether or not they exist in your home as well.
There is no better way to figure this stuff out then to see the video!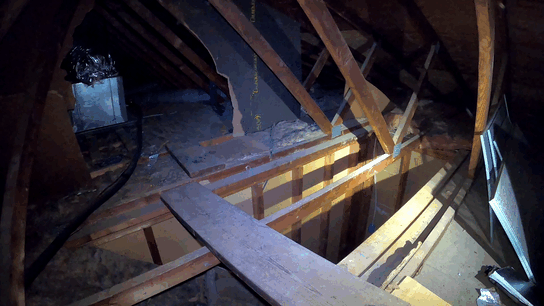 Blocking and sealing technique used above an open staircase.
Home Performance with ENERGY STAR Project in Harford County MD

Watch a 4 minute home performance job summary that included:

Crawl space encapsulation
Air sealing the attic floor areas
Insulating the attic floor areas



Blower Door Test Ellicott City, MD

Check out how we use the blower door test to measure the air leakage of a house before any work is done. Learn how we air seal a large opening at the attic floor. Check out the verified results after the work is completed.

Blown Insulation Demonstration

Before - After - During a Blown Insulation Project

Crawl Space Encapsulation Laurel, Maryland 20707
Closed Cell Spray Foam
Reduce humidity, improve indoor air quality, better comfort

BGE & Pepco Home Energy Audit Attic Inspections

Watch this Pepco energy audit attic summary and see several common insulation issues. The video also demonstrates several techniques we use to remedy the situation including:

Air sealing
Knee wall insulation and sheathing
Pull down attic stair access cover
General insulation levels

Rockville, MD Pepco Home Energy Audit Attic Inspection

Halethorpe MD Cape Cod Spray Foam Encapsulation Project

Open Cell Spray Foam Garage Encapsulation Fulton, MD